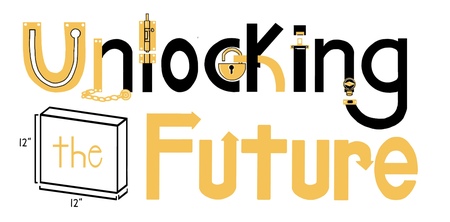 When the door is locked, open a window! Unlocking the Future is a juried 12in by 12in mixed media wall
hanging show inviting artists to explore their (or a) vision of the future through an imagined window of their own making.
Exhibition Dates: January 3 - 30, 2020
First Friday and Opening Reception: January 3, 2020, 5pm-8pm
Material Topics Symposium Contemporary Clarity 20/20 Reception: January 17, 2020, 7pm-10pm
Entries Due: November 16, 2019
---
Eligibility
Wall hanging work only. 2D work or arranged 3D objects are to be mounted inside a 12in by 12in or smaller frame. Groupings constituting one piece are welcome so long as they fit within the 12in by 12in framework. Must be "ready to hang". The artist will provide the wall mounting parts, findings, and any specialty hanging tools. Please provide a detailed description and diagram of how the piece is arranged and hung. The artist is responsible for shipping to and from the gallery. Artists must be 18 years or up.
entries & feees
Each artist may submit up to 3 entries. Groupings count as one submission if the pieces are directly related and dependent on each other. All entries are digital through Cafe and should have the file format of 5x7, 300dpi. Fee is $15 dollars per entry. All work must be labeled with the title and artist name at time of delivery if accepted. Return shipping label must be provided.
deadlines
Entries must be submitted online by : November 16, 2019. Accepted work that is shipped must be received by December 17th and hand delivered by December 17th, between 10am-8pm.
pick up of accepted work
Work shipped will be shipped out January 31st. Work will need to be picked up Friday, January 31 or Saturday, February 1, 2020.
awards
There will be three cash awards: 1st Place - $150 2nd Place - $100 3rd Place - $75
Insurance and liability
Emerge Gallery will provide insurance for accepted work during the exhibition dates only. Work will not be insured after February 1, 2020. Work will be insured for the value price provided by the artist. Consent to reproduce for publicity, catalog of entry constitute agrall conditions. Insurance value must be a realistic value, and maybe questioned with proof of similar sales asked for.