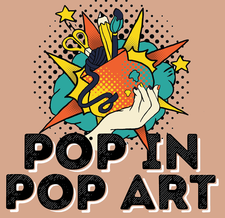 Pop Art workshops will be offered the 1st and 3rd Saturday of each month from 1-3pm. Community members are able to pop in for a 20-25 minute lesson for a small fee of $10. Workshops are available for all ages, children as young as age three and adults of all ages. Community members have the option to pre-register for a time slot or just walk in. Walk in's depend on available space.
February 15 - Hand Embroidered Notebook
Looking for a one of a kind notebook to write down your best ideas or create awesome sketches? What if you made your own? Pop In Pop Art is a 30-minute workshop, that allows you to Pop In and create amazing art.
1 - 1:30pm
1:30 - 2pm
2 - 2:30pm
2:30 - 3pm
3 - 3:30 pm
March 7 - Potter's Wheel
1 - 1:30pm
1:30 - 2pm
2 - 2:30pm
2:30 - 3pm
3 - 3:30 pm
March 21 - Enamel Pendant
Age 7+ Come explore the wonders of the metals studio. Participants will be able to enamel one pendant to take home for themself to give as a gift. Seating is very limited. There will be a max of 7 in each group.
1 - 1:30pm
1:30 - 2pm
2 - 2:30pm
2:30 - 3pm
3 - 3:30 pm
April 4 - Potter's Wheel
1 - 1:30pm
1:30 - 2pm
2 - 2:30pm
2:30 - 3pm
3 - 3:30 pm
May 16 - Potter's Wheel
1 - 1:30pm
1:30 - 2pm
2 - 2:30pm
2:30 - 3pm
3 - 3:30 pm