The Second Friday of each month! 
Cost: Free
Location: Emerge Gallery & Art Center, 404 S. Evans Street, Greenville, NC 27858
Artistic Director: Carroll V. Dashiell, Jr.
First Set: 7:00pm, Second Set: 8:30pm
Next Concert Date: September 14 – Michael Friend
---
Lenora Z. Helm Hammonds

Lenora Helm Hammonds (p/k/a as Lenora Zenzalai Helm) is a jazz vocalist, vocal musicianship coach, composer, arranger, lyricist and educator who has earned international acclaim from her six solo recordings, and her own recording and publishing company, Zenzalai Music. Her achievements have garnered accolades as "...the voice of her generation," by Jazziz Magazine, and she has an extensive recording discography and touring itinerary with some of the biggest names in jazz and contemporary music. Her voice can be heard on numerous television and radio commercials and her music and voice can be heard on the HBO series Unchained Memories: Readings from the Slave Narratives.

Schedule
October 12, 2018 – Lenora Z. Helm Hammonds
November 9, 2018 – Vaughn Ambrose
January 11, 2019 – Ernest Silver
February 8, 2019 – Christie Dashiell & Allyn Johnson
March 8, 2019 – Dr. Clarence Knight & William Ford
May 10, 2019 – AAMT of Eastern NC Jam Session
---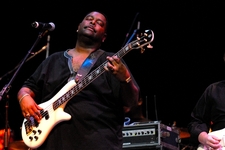 ABOUT CARROLL V. DASHIELL, JR.
The North Carolina Arts Council, Pitt County Arts Council, Greenville-Pitt Convention & Visitor's Bureau has named Carroll V. Dashiell, Jr. Artistic Director of a new series, The African American Music Series.  Carroll Dashiell is a native of Washington, DC. A graduate of Howard University, with citations in Who's Who in Music and Down Beat Magazine, Carroll has been recognized for excellence in the music industry as a bassist, musical director/conductor and also as a composer/arranger. Affectionately known as CVD, he has been involved in academia for more than three decades serving as professor of music at the Saint Mary's College of Maryland, University of the District of Columbia and East Carolina University in North Carolina. CVD is the producer and writer of A Tribute to Motown Records, (a stage show and concert that celebrates some of the African-American's cultural contributions to the music industry, staged in the tradition of the famous touring Motown Review) that is selling out theaters and venues nation-wide. In addition to composing, writing and arranging, CVD is continuing performance as jazz bassist and is very humbled to be the Founder and Director of the Dr. Billy Taylor Jazz Festival, named in honor of his mentor.
A special thank you to our sponsors.

| | | | | |
| --- | --- | --- | --- | --- |
| | |    | | |