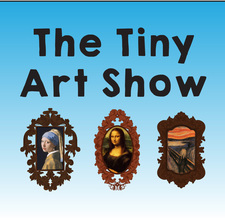 The Tiny Art Show is an annual exhibition and fundraiser for the Emerge Gallery's for our educational and outreach fund. Anyone may enter, and all media and appropriate subject matter is accepted. However, the staff has the right to reject any work for work sized wrong or inappropriate subject matter. 50% of all sales go to the Arts Council, however, we appreciate additional support through a complete sale donation if the artist chooses this option.
Exhibition Dates: February 5 - 25, 2021
Eligibility
This exhibition is open to all artists, craftsman, and community members, adult or child. Any media and subject matter is eligible. All pieces must not exceed 5"x5"x7" in any direction. Work must be available for the entire exhibit and must be for sale.
Application Submission & Deadline
Entries Due: January 26 - 30, 2021
coming soon....Click here to download the inventory sheet