The Second Friday of each month! 
The series celebrates the rich heritage of African American Musicians with ties to Eastern North Carolina, with artist director, Carroll V. Dashiell, Jr., house band and a special monthly guest artist. The music series is part of the African American Music Trails of Eastern North Carolina, a project of the North Carolina Arts Council, an agency of the Department of Natural & Cultural Resources and the counties of Edgecombe, Greene, Jones, Lenoir, Nash, Pitt, Wayne and Wilson. There is also a guidebook and a website, www.AfricanAmericanMusicNC.com.
Cost: Free
Location: Emerge Gallery & Art Center, 404 S. Evans Street, Greenville, NC 27858
Artistic Director: Carroll V. Dashiell, Jr.
First Set: 7:00pm, Second Set: 8:30pm
Next Concert Date: February 14
Michael Friend

Michael Friend founded Soul in Motion Players, Inc. in 1984. Michael wrote and debuted his first theatrical production entitled; We Are Africa in 1991. His other works include Henrietta Marie, Malcolm, What If., and Ile Ife - House of Love. He started his music/acting career in 1969 with the world-renowned Arthur Hall Afro-American Dance Ensemble and Theatre Advocate, in his hometown of Philadelphia, PA. Friend furthered his studies at Fisk University and graduated Howard University in 1981, receiving his B.A. degree in Communications. Michael has gone on to record/perform nationally and internationally, including a Jazz tour in 1989 to Cameroon, West Africa. As a percussionist, Michael performed with The Four Kings of Rhythm and Blues for over 10 years, featuring Jerry Butler, Gene Chandler, Ben E. King, and Lloyd Price. Friend's regional accomplishments include performing in the Arena Stage production of Derrick Walcott's The Odyssey and with The Dance Theatre of Harlem at the Kennedy Center. He's a former board member of several local arts organizations: Black Rock Center for the Arts, Joe's Movement Emporium, and The Arts & Humanities Council of Montgomery County - serving as Vice President of Grants for 3 years. In 2011, as director of Soul in Motion, Michael won the prestigious Montgomery County Executive's Community Award for Excellence in the Arts and Humanities, in 2014 he was the recipient of the Empower Magazine Player Award and on March 19, 2016 Joe's Movement Emporium honored Michael as a Mighty Joe with the Creative Visionary Award.



Schedule
February 14, 2020 –  Mike Friend, Ethnic Percussion
March 13, 2020 – Bill Myers, Piano
April 2020 – ECU Billy Taylor Jazz Festival at ECU
May 8, 2020 – Vaughn Ambrose, Saxophone
---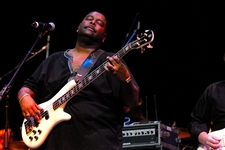 ABOUT CARROLL V. DASHIELL, JR.
Artist Director
The North Carolina Arts Council, Pitt County Arts Council, Greenville-Pitt Convention & Visitor's Bureau has named Carroll V. Dashiell, Jr. Artistic Director of a new series, The African American Music Series. Carroll Dashiell is a native of Washington, DC. A graduate of Howard University, with citations in Who's Who in Music and Down Beat Magazine, Carroll has been recognized for excellence in the music industry as a bassist, musical director/conductor and also as a composer/arranger. Affectionately known as CVD, he has been involved in academia for more than three decades serving as professor of music at the Saint Mary's College of Maryland, University of the District of Columbia and East Carolina University in North Carolina. CVD is the producer and writer of A Tribute to Motown Records, (a stage show and concert that celebrates some of the African-American's cultural contributions to the music industry, staged in the tradition of the famous touring Motown Review) that is selling out theaters and venues nation-wide. In addition to composing, writing and arranging, CVD is continuing performance as jazz bassist and is very humbled to be the Founder and Director of the Dr. Billy Taylor Jazz Festival, named in honor of his mentor.
A special thank you to our sponsors.

| | | | | |
| --- | --- | --- | --- | --- |
| | |    | | |