The Second Friday of each month! 
The series celebrates the rich heritage of African American Musicians with ties to Eastern North Carolina, with artist director, Carroll V. Dashiell, Jr., house band and a special monthly guest artist. The music series is part of the African American Music Trails of Eastern North Carolina, a project of the North Carolina Arts Council, an agency of the Department of Natural & Cultural Resources and the counties of Edgecombe, Greene, Jones, Lenoir, Nash, Pitt, Wayne and Wilson. There is also a guidebook and a website, www.AfricanAmericanMusicNC.com.
Cost: Free
Location: Emerge Gallery & Art Center, 404 S. Evans Street, Greenville, NC 27858
Artistic Director: Carroll V. Dashiell, Jr.
First Set: 7:00pm, Second Set: 8:30pm
Next Concert Date: October 11th
Rachael Howard

Rachael Howard is a native of Washington DC, but currently resides in Wilson, NC. She graduated from East Carolina University May 9, 2014 with a Bachelor of Music Degree, concentration in Jazz Vocal Performance. While attending ECU, Rachael was a member of the ECU Jazz Vocal Ensemble and served as lead vocalist her junior and senior year. She also sung with the ECU Gospel Choir all four years and served as chaplain her freshman, sophomore, and junior year. During her senior year, she was the student director for the ECU Gospel Choir. She has also worked as a piano and voice instructor at the Wright School of Music in Greenville, NC in 2014. From 2014-2018, Rachael worked in Nash Rocky Mount Public Schools as the Chorus director at Southern Nash Middle School in Springhope, NC, teaching grade levels 6th, 7th, and 8th. She also created and directed the SNMS Elite Chorus (Honors Chorus) 2014-2018. The Elite Chorus performed at various events throughout the community including the Wilson County Commisioner's Meeting, Mudcats Baseball Games, Christmas at Springhope, and Christmas in Middlesex. The Elite Chorus also competed in the WRALFM Christmas Choir Radio Competition and made the semi-finals in 2016 and 2017. Rachael is currently the lead music instructor for the Youth Public Art Project at Emerge. She is also the executive director of her own non-profit organization in Springhope NC, the Elite Vocal Ensemble, an auditioned community vocal group comprised of young people ages 12-18. The Elite Vocal Ensemble has performed at the Greenville Grooves event Summer 2018 and recently performed their first Spring Showcase May 2019. Rachael also is the lead mentor for the youth praise band at Raleigh Road Baptist Church. She has also worked with the Boys and Girls Club of the Tar River Region through NRMPS as the music instructor for the program, teaching at Cedar Grove Elementary, Bailey Elementary, and Southern Nash Middle School. She is a performing vocalist, having performed in North Carolina, Washington, DC, Maryland, and Virginia, a private vocal coach, and beginning piano instructor. Rachael has a passion for music and loves to share it with others!

Schedule
October 11, 2019 – Rachael Howard, Singer
November 8, 2019 – Marshall Keys, Saxophone
January 10, 2020 – Christie Dashiell, CV, Allyn Johnson, and Jeff Bair
February 14, 2020 –  Mike Friend, Ethnic Percussion
March 13, 2020 – Bill Myers, Piano
April 2020 – ECU Billy Taylor Jazz Festival at ECU
May 8, 2020 – Vaughn Ambrose, Saxophone
---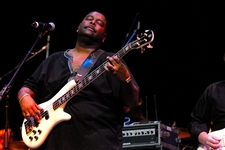 ABOUT CARROLL V. DASHIELL, JR.
The North Carolina Arts Council, Pitt County Arts Council, Greenville-Pitt Convention & Visitor's Bureau has named Carroll V. Dashiell, Jr. Artistic Director of a new series, The African American Music Series.  Carroll Dashiell is a native of Washington, DC. A graduate of Howard University, with citations in Who's Who in Music and Down Beat Magazine, Carroll has been recognized for excellence in the music industry as a bassist, musical director/conductor and also as a composer/arranger. Affectionately known as CVD, he has been involved in academia for more than three decades serving as professor of music at the Saint Mary's College of Maryland, University of the District of Columbia and East Carolina University in North Carolina. CVD is the producer and writer of A Tribute to Motown Records, (a stage show and concert that celebrates some of the African-American's cultural contributions to the music industry, staged in the tradition of the famous touring Motown Review) that is selling out theaters and venues nation-wide. In addition to composing, writing and arranging, CVD is continuing performance as jazz bassist and is very humbled to be the Founder and Director of the Dr. Billy Taylor Jazz Festival, named in honor of his mentor.
A special thank you to our sponsors.

| | | | | |
| --- | --- | --- | --- | --- |
| | |    | | |