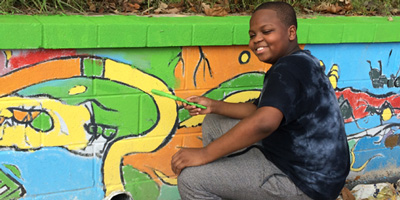 The Youth Public Arts Project (YPAP) is an outreach program for at-risk youth that provide positive arts education programs for youth to have a positive impact on their community, to express themselves through artwork, and to build teamwork, social, and interpersonal skills through the visual arts.
This project is targeted towards youth from 8 - 18 years of age, who show an interest in the creative arts. All participants must be referred to the program by school counselors, teachers, school social workers, court counselors, private therapists, and community professionals.
Objectives
To create a positive visual impact within the community
To facilitate self-expression through artwork
To interact with other individuals in a constructive way, building teamwork and interpersonal skills
To build work ethic and self esteem
Past Public Art Projects Include:
 

Planter Bench

Location: In front of Emerge Gallery, 404 S. Evans Street, Greenville, NC
 

"Plant the Arts, Grow a Community"

Location: The mural was on the Previous Taff Building, where The Boundary is now.
*No longer in existence.
Evans Street Fence

Location: This fence bridged Cinnamon Indian Cuisine and Garry's Skin Grafix in Uptown Greenville. The fence was where the courtyard to the parking deck is now.
*No longer in existence.
 

Forest Scene Mural

Location: Behind Emerge along Merchant's Alle
 

Sunday in the Park Mural

Location: Drew Steele Center Multi-Purpose Room, 1058 S. Elm Street, Greenville, NC
Soda Can Panels

Location: Corner of Jarvis & 3rd Street
About: In 2014/2015 we kicked off this project at the first Art + Community event. We took the project to several public events to invite members of the community to participate and the Youth Public Arts Project saw the work to completion.