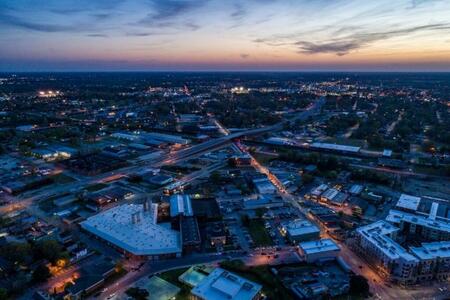 ---
WHAT WE ARE DOING?
The City of Greenville has asked the Pitt County Arts Council to make recommendations to the City Council about the potential designation of an Arts District in or around the center city of Greenville. The Arts Council will:
Outline a broad vision and goals
Highlight the benefits of well-developed arts areas
Recommend a series of projects and initiatives that can advance Greenville to become recognized as the center for the arts in the region.
---
THE RESEARCH PROCESS
Site Visits
Site visits have included 8 trips to other arts districts to meet with officials, arts administrators, and arts organizations to understand the benefits and challenges of starting an Arts District. Site visits have included:
Seagrove, NC
Kinston, NC
Norfolk, VA
Virginia Beach, VA
Fayetteville, NC
Greenville, SC
Chattanooga, TN
Columbia, SC
Precedent Studies
Precedent studies have been completed of other successful arts districts and highlighted model arts districts throughout the country.
ECU Engagement
Conversations are ongoing with the ECU College of Fine Arts and Communications about engaging with the Arts District.
Focus Groups
9 Focus Groups have been completed with stakeholders within and near the proposed Arts District. There are another 2 focus groups that will be organized and completed in the next month.
Asset Mapping
Asset mapping has been conducted of all of our creative businesses and organizations in the area.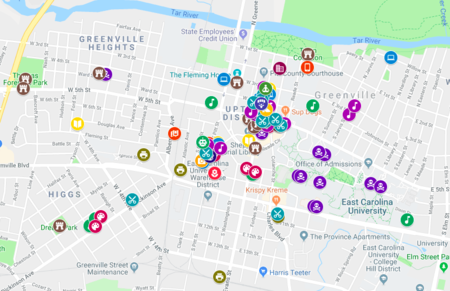 SmART City Integration
The City of Greenville has received the designation of a SmART City by the North Carolina Arts Council. The Pitt County Arts Council amended their contract with the City of Greenville to wait one year to conduct community engagement and release their recommendations while applying for the grant and then getting the endorsement of the SmART City Resource Team to group the Arts District recommendations with their SmART City Project.
Trial Program
The Pitt County Arts Council in collaboration with A Time for Science, the City of Greenville, Uptown Greenville, and ECU School of Art and Design, created The Art Lab, an arts incubator for community artists. It is located at 729 Dickinson Avenue, and offers artists free studio space, gallery space to sell, and business resources to encourage them to eventually start their own arts business in Pitt County.
Community Survey
A community survey has been released to gain feedback about the wants and needs of our community, as well as ideas for boundaries and names for the Arts District.
---
WHAT'S NEXT?
Final Community Engagement Meeting
The community will have another chance to see the results of the survey and findings from the focus groups and research to continue to give feedback. This will be held at the end of August 2019.
City Council Meeting
Results and recommendations will be presented to the Greenville City Council in early fall.